Project Location
Pagoda Road, Sri Jayawardenepura Kotte
View map

Completion Date
(Estimated)
| | | |
| --- | --- | --- |
| | | JUST METER AWAY FROM THE PITA-KOTTE |
| | | |
| --- | --- | --- |
| | | DISTINCTIVELY DESIGNED KITCHENS FROM GERMANY |
| | | |
| --- | --- | --- |
| | | CONVENIENTLY LOCATED IN CLOSE PROXIMITY TO LEADING BANKS SCHOOLS & HOSPITALS |
For over 150 years a kingdom stood in the vicinity of Sri Lanka's current suburban-capital. Today, in the midst of the forgotten remnants of this 'lost Kingdom' contemporary Sri Jayawardenepura Kotte is a planned urban site with government offices and residential housing. 96 Residencies is destined to elevate the lifestyles of those seeking a new home in the modern Suburb Kotte. The 12-story tower, inclusive of 3 levels of car park and a range of opulent amenities, features 54 two- and three bedroom apartments thoughtfully designed by I. W. Architects.
Living Landmarks
A 12 story Condominium, Offering 54 Contemporary, Luxury Apartments, 96 residencies is set to become the landmark that will redefine the suburb of pagoda.
Contemporary Living
Experienced Contemporary Living like never before exclusive designed too soothe the soul and replenish the spirit, SriLankan's best interior designers showcase "Customized interior solutions, that make each apartments a reflection of its owner.
Timeless Elegance
Designed to cater to your needs, 96 Residencies boats timeless, Yet functional beauty. All dining rooms are designed using tiled flooring and high quality fittings.
Mind, Body and Soul
Offering spaces that combine the utmost comfort and luxury to uplift the mind, Body and soul; each apartment bedroom creates an atmosphere of rest and relaxation.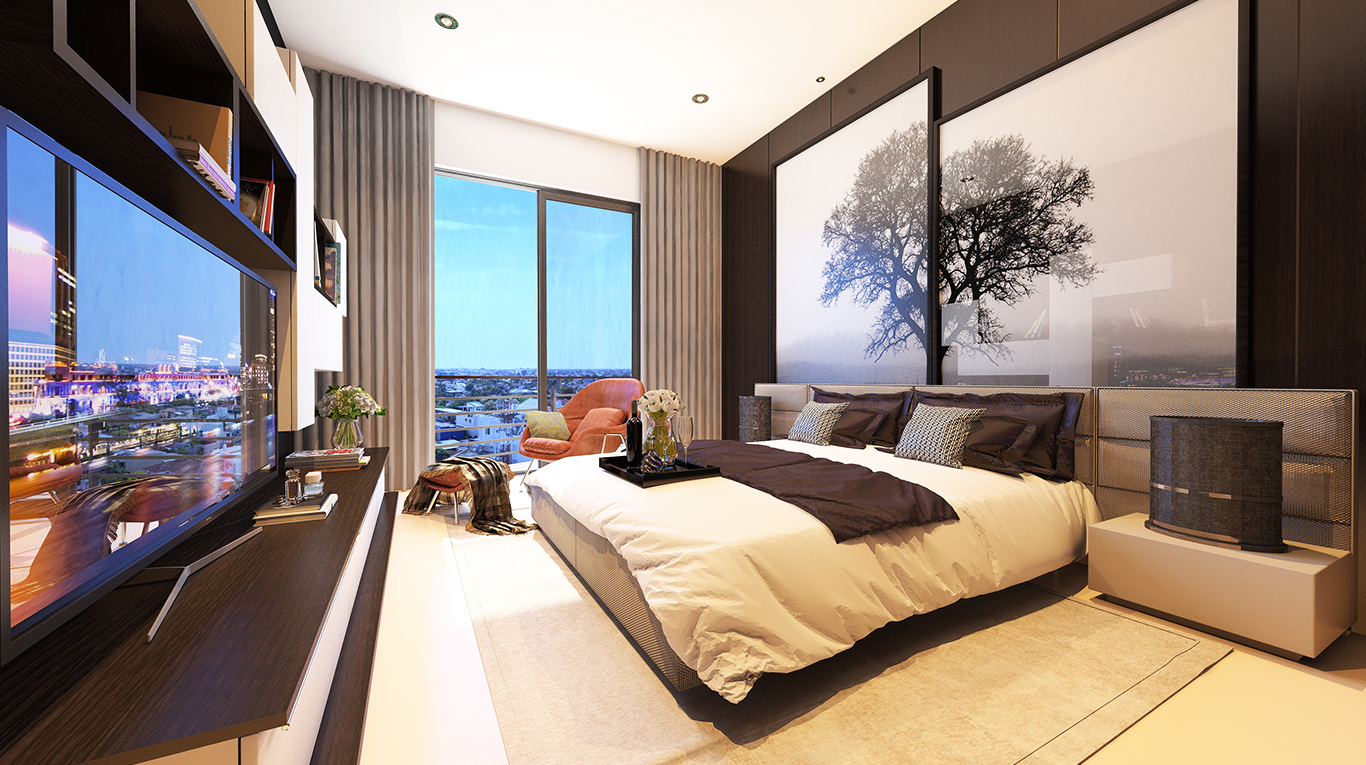 Functional Beauty
With a refined taste in elegance and beauty, complementing each functional space at 96 Residents are guaranteed the utmost in practicality. Accented by soothing palettes and subtle hues, each space is the culmination of modern design.
Spaces that pamper
Utilizing pristine white fittings and fixtures of the highest industry standard, our residents are bound to feel pampered in their own home.
At the height of luxury
Indulge in absolute luxury at 96 residencies' exclusive rooftop pool. Relax and unwind under a galaxy of stars or while taking in the sun's rejuvenating rays.
At the top of your Game
Never miss a beat, with you own state-of-the-art Gymnasium, Uncompromisingly designed to ensure our residents keep pace with their modern lifestyle.

Swimming Pool
Car Parking
Garbage Removal
Infinity Pool
AC

Roof Top
Gym

Fire Detection
LP Gas system
Kids Play Area
Lift
Registered for EDGE certification from IFC/ USGBC
Fibre optic telephone TV and internet connection for each apartment
Imported LED lights
Branded kitchen/ pantry units
BBQ area and terrace
Rooftop swimming pool (Main pool: 40ft x 18ft Kids' pool: 12ft x 8ft)
Each floor has its own lobby/ corridor area
Interior design options by experienced consultants
Added quarters - Common drivers' dorm and washrooms
High ceilings – Provided for all apartments
Private to common area ratio - Approximately 3:1
The 12-story tower offers 9 floors of 2BR and 3BR apartments
3 floors of parking with electric charging points and separate driver's quarters
Each unit comes provided with air-conditioning fans a centralised gas-supply water-heating systems and branded fittings
LIVING AREA
Floor - Porcelain Tile Main Entry Door - Fire rated timber door Balcony Door - Aluminum and glass sliding door
KITCHEN
Floor - Porcelain Tile Pantry cupboard - SEA Kitchens from Germany Kitchen Sink - Stainless steel Kitchen Sink Kitchen Appliances Hood, Hob & Oven
BEDROOM
Floor - Porcelain Tile Door - Timber Door Window - Aluminum and glass window
BATHROOM
Floor - Porcelain Tile Wall - Porcelain wall Tile Door - Timber door Window - Aluminum window Bathroom Fittings - All fittings are of a reputed brand
MAID'S ROOM
Floor - Porcelain Tile Door - Timber door Window - Aluminum window Maid's toilet - Standard fittings are of a reputed brand
BALCONY
Floor - Porcelain Tile Handrail - GI steel railing Floor gully - Stainless steel
CAR PARKING
01 parking lot
WATER HEATING
Electrical geysers to provide hot water for pantry and bathroom areas
CCTV
Main control unit with digital video recorder located on the first floor Indoor dome cameras and bullet type cameras to be installed
RAINWATER HARVESTING
Harvested within the premises
used for gardening and in the washing bay
FIRE PROTECTION SYSTEM
All areas to be covered by a fire protection system in compliance with local and international standards Fire extinguishers for each apartment unit to be installed
LP GAS SYSTEM
Centralized LPG distribution system with individual LPG meters for each apartment Intelligent shut off system upon fire alarm signal
ELECTRICAL SYSTEM
Individual electrical meters for each apartment Provisions have been made for EV charging points at all parking slots EV charging points will be provided upon resident request
AIR CONDITION & MECHANICAL VENTILATION
Highly efficient inverter type multi-split and single-split AC units Mechanical ventilation fans
WASTE WATER MANAGEMENT
Waste water treatment plant to manage the on-site sewage and waste water
GENERATOR
A 500kVA back-up generator capable of supplying up to 24 hours of the entire building's energy requirement
LIGHTING
Soffit mounted down light Soffit light point Ceiling light point LED tube light with 1HR backup battery Wall mounted external light – LED Wall light point Mirror light Track light Doorbell and bell switch Wall recessed down light Bollard lighting Wall recessed down light
SUSTAINABLE GREEN ARCHITECT
Registered for EDGE (Excellence in Design for Greater Efficiencies) certification through IFC/USGBC EDGE is both a building design tool and global green standard certification for nearly 100 emerging market countries
Units available
JAT LIVING
In March 2016, JAT Holdings, the leader in the furnishing and finishing industry for over 25 years, took on a new venture to redefine vertical living under the JAT Living subsidiary with the aim of building homes and residences with exclusivity. JAT Living is being driven with a vision for perfection and our mission is to provide absolute value to the potential customer. All development projects are at premium locations with emphasis given to accessibility, convenience and the highest standards of living. That is a vital factor and integral contributor to our impetus to design and develop spellbinding properties with character and personality that make a fantastic abode transcend into a fabulous home. As JAT Holdings being the sole distributor for SEA Bauformat in Sri Lanka, all occupants of JAT Residencies will have the full SEA kitchen experience in their own home. SEA stands for unique modular kitchen and wardrobe designs combined with an impeccable customer service and highest quality German standards. JAT Living offers greater convenience to their customers by arranging several financial options when purchasing a JAT Residence. Never the ones to compromise standards or shirk quality; JAT Living is a stalwart conglomerate that provides excellent quality with meticulous attention to every detail, offering pure convenience giving our clients something more.
ARCHITECT
I. W. Associates (Pvt) Limited was founded in 2011 with a partnership of Chartered Architects, Indika Samarasinghe and Waruna Gomis. This boutique firm provides architectural and Consortium Consultancy Services. IWA provides a full range of Architectural Services for both residential and commercial clients, of any scale, from renovation extensions to new projects, providing oversight through completion of the build, both in Sri Lanka and abroad.
CONTRACTOR
Established in 1992, Nawaloka Construction Company is a major player in the piling industry. The Company has undertaken several high-profile projects in the recent past and has completed several leading projects that has set the benchmark in the country's construction industry.
Location
Pagoda Road, Sri Jayawardenepura Kotte
Locations Near By
Nearest Bus Stop :
Pita Kotte Bus Stop - 1KM
Nearest Train Station :
Nugegoda Railway Station - 2KM
Nearest Schools/Universities :
Shiffield Int. School - 950 M
Nearest Hospitals :
National Hospital of Sri Lanka - 7KM
Nearest Shopping :
Cargills Food City - Pita Kotte - 300 M
---