Project Location
The Green Heights - No, 504, U.J. Fernando M, Rajagiriya / The Heights - Nawala-Road, Colombo 5
View map

Number of floors
The Heights - 16 The green Heights - 15

Total Units
The Heights - 64 Units The green Heights - 88 Units

Completion Date
The Heights - June 2019 The Green Heights - 2021 March
(Estimated)
| | | |
| --- | --- | --- |
| | | Unmatched reliability and expertise |
The Heights Nawala : The Heights Nawala is located facing Narahenpita Road, Colombo 05. Overlooking a picturesque panorama of the Colombo City landscape, inviting Residents to lead a healthy, Tranquility life style every day. Heights include 60 exclusive residential units along 4 luxury Pent House, that offers breath taking views and much valued privacy. Located within minutes of National and International Schools, Hospital, Super Markets, Restaurants and shopping. The Green Heights Rajagiriya : The Green Heights (504) Rajagiriya is an 88 units exclusive residential point that's minutes away from both commercial and administrative capital Colombo & Sri Jayawardanapura Kotte. Luxury modern amenities, reliability, tranquility, life standards at very affordable pricing offers both Colombo City sky line views and Luxurious grace environment with mountain peak views on a clear day. Strategically located offering easy access to all popular Government and International schools, hospital, banks, officers, super markets, shopping malls and restaurants.
The Heights Nawala
Residential living within Colombo city limits, offering privilege, convenient and contemporary living standards with a choice of six (06) modern floor plans
The Green Heights Rajagiriya
Invites residents to come home to a contemporary exclusive residential living surrounded by Colombo City land scape and ecofriendly nature offering privacy, tranquility and health living.
Living and Dining
Providing a modern kitchen amenity to prepare and serve a delicious home cooked meal every day.
Recreation
Relax and chill out with family and friends indulging in a healthy lifestyle.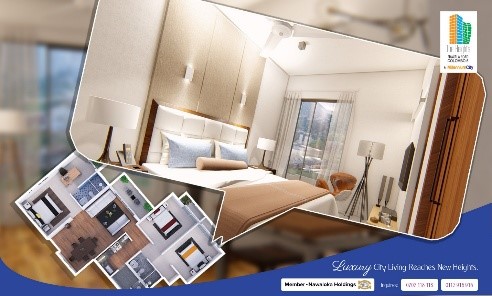 Living and Entertain
Entertain friends and family and relax in modern and luxurious comforts.

Swimming Pool
Car Parking
BBQ Area
Gym
Jogging Track
Laundry
Backup Generator

Fire Detection
AC
Garbage Removal
LP Gas system
Library
Wash Room
Solar Panel
Rain Water Harvesting System
Activity Room For Yoga Aerobics Exercises and Games
Sub structure
Reirforced concrete piles.
Super structure
RCC columns,beams,slabs and brick walls.
Floor finishes
Imported superior quality Ated finish porcelain tiles far living and dinning. Imported polished porcelain tiles for bed rooms Non slip ceramic ties for pantry, balconies, stair case and corrnon areas. Non slip ceramic ties. for talents and surface shall be waterproofed.
Wall finishes
Smooth plaster on inside walls with two coats of primer and two coats of emulsion paint applied. Semi rough plaster on external walls, with one coat of primerand two coats of weather shield paint applied. Ceramic tiles up to the ceiling height for toilets.
Pantry
Fully fitted pantry unit with a cooker hood and a hob, double bowl single drain stainless steel sink with a swan neck tap. Wall cupboards for suitable areas (Penthouses only) Provision for washing machine.
Air conditioning
Split type MC unit to be supplied for each unit -living area and all bed rooms.
Tap fittings
Shower fittings and miner taps shall be Grope or equivalent
Doors
Front door - Teak sash and teak frame or similar wood. Internal doors - Mahogany sash and class one timber frame or similar wood.
Windows
Powder coated Aluminum and Wow to the Architect's choice.
locks
High quality mortise door lock with door viewer for front door. All other door locks shall be cylinder type.
Stair case hand rail
Steel hand rails to the Architect's design.
Colour scheme
As directed by the architect.
Water Supply
Water Supply From National Water Supply and drainage board through UPVC Cold Pipe network via. Common Water Tanks placed above the building. Separate Water Meters to be provided for each unit. Hot Water Supply for master Bedroom toilet, common toilet and pantry via geysers.
Electricity
30A, three phase, separate Electricity meters to be provided for each unit.
Stand by Generator
Electrical fittings. Standard light fittings and KDK ceiling fans for each unit.
TV system
Provision for master bed room and living area. PEO TV connection from SLT.
Vertical transport
One stair ray and 1000 Kg . 10 passenger lift and 1200 Kg. 16 persons bed lift.
Intercom system
From each, unit to main security point. Video phone system for the main door
CCTV
CCTV camera system for common area in each floor, car park and lift.
Central gas system
Centralized gas system for each unit via separate meters Gas detection system including monitoring panel.
Fire system
Compliances to municipal fire department requirements Wet sprinkler and detection system for each unit-pantry and dining area.
PA system
Public address aid music system for common lobby.
Garbage disposal system
200 Kg garbage lift serving ground floor to roof level Garbage connecting room at each floor level and garbage room at ground floor level with bins. 200 Kg garbage lift serving ground floor to roof level.
Units available
Profile of the Developer
About the Millennium Housing Developers PLC. Millennium Housing Developers PLC has taken urban and township development to unprecedented heights. Since 1999, the company has been revolutionizing mega township projects by identifying and catering to the progressive lifestyles of prospective clients around the island. The Company stands out proudly as the only private property developer that is listed in the Colombo Stock Exchange. The Company has a diverse portfolio which includes lands, housing, apartments and villas in diverse settings. Value engineered & strategically located to cater to urbanization demand. The Heights residencies projects located at Edmonton Colombo 5, Nawala and the upcoming project at Rajagiriya Green Heights. The Company being a subsidiary member of the prestigious Nawaloka Holdings consistently meets impeccable standards of raw material and construction. Constantly striving and engaged in many community service responsibilities in rural Sri Lanka and continues to transform lifestyles and city spaces around the country by taking pride of our loyal customer base that's built on years of relationship excellence.
Location
The Green Heights - No, 504, U.J. Fernando M, Rajagiriya / The Heights - Nawala-Road, Colombo 5
Locations Near By
Nearest Bus Stop :
Nawala IAS Bus Stop - 1.2KM
Nearest Train Station :
From Rajagiriya To Cotta Road Station – 4.1km
From Nawala to Kirulapone Railway station – 1.8km.
Nearest Schools/Universities :
From Nawala To Sujatha Vidyalaya - 700m
From Nawala To British international School – 2.5km
From Nawala To D. S. Dissanayaka – 2.2km
From Rajagiriya To Devi Balika Vidyalaya – 2.6km
From Rajagiriya To President's College – 2.1km
Nearest Hospitals :
From Rajagiriya To Weston Hospital – 2.3km
From Rajagiriya To Castle Street Hospital – 2.3km
From Rajagiriya To Golden Key Hospital - 1.9km
From Nawala To Asiri Medical Hospital – 600m
From Nawala To Lanka Hospital – 500m
Nearest Shopping :
From Rajagiriya To Jana Jaya City Center – 1.6km
From Rajagiriya To Nolimits – 3.4km
From Nawala To Kandy Fashion – 4km
From Nawala To House Of Fashion – 3.2km
From Nawala To Cool Plant – 2km
---