&nbsp
How to Stay Popular in the Designing World
House Plans | Home Design | House Designs
Home is a place of rest and a place of joy and laughter. To some home is the person that they consider dear and to others, home is a concrete construction that brings life to their monotonous way of life. Yet, despite what home means to each person, it wouldn't be wrong to say that every one of us tries to cultivate our own version of a homely vibe in our houses. But none of it compares to doing so in a home of our very own.
To be honest, at some point, we have all dreamt of the sort of house we want to live in. We've even thought of the ways we could fund it through housing loan Sri Lanka. In fact, the time spent going through house designs and house plans Kandy debating what would work best, is immeasurable. But this isn't as strange as it sounds.
You will find many people doing prior research on photos of house designs Sri Lanka and small house design before constructing a house. However, some others choose to explore things out on their own without relying on previous designs and Indian style house designs. This has led to the evolution in the home design structures that we witness today.
With the rising population, limited space and advancing home interior design trends, these house designs have also gone through many changes. So now you would see a set of basic house designs in Sri Lanka that use interior designing and small home planning to create budget-friendly homes.
However, though when you simplify these house plan sri lanka kadawatha or home designs in Sri Lanka, you will identify that the choices are more or less limited. You could either build a two-storied house in a minimal square feet land or choose to live the cramped—and sometimes expensive—apartment life. Yet with interior and exterior home design picking up in Sri Lanka, many have begun to use them in upgrading even the smallest of homes.
Here are a few such housing construction styles, broken down to their simple home designs or house design plans for you to choose from.
Single / Detached Homes
A single or detached home is the general one-floor house you see in almost every neighbourhood. These houses are known as free-standing residential buildings and have also been used as a designing foundation in many homes in Sri Lanka including house plans Kandy.
The simple house design used for vacation homes constructed in Kandy uses a similar design in their infrastructure. You will find open floor plans, a garage, gardening space and sometimes even a mini playground with a swing. As you go through some of the home designing images you will also notice the smartly planned space distribution.
It is obvious that when compared with apartments and terraced home designs, the facilities available in single houses are more. This is due to the abundance in outdoor space and their location. It allows the owner to get creative and add in more rooms and facilities into the house plan.
But, sometimes there are certain restrictions and obstacles in the process.
Usually, when building a house of your own with the expertise of house builders in Sri Lanka—according to the house plans Kandy—you have the freedom to explore various home design ideas. But sometimes you just don't. For example, when building your home in a neighbourhood where colonial architectural design styles are prominent, you don't have much of a say on what you can add and not.
This is because of the strict conditions imposed by the state. With the hope of preserving the cultural and historical value, the local bodies have the right to intervene or reject your house proposal. But if you still choose to build your home in such a location, you will be required to follow the rules. i.e every citizen in that area should maintain similar housing designs regardless of the architects of Sri Lanka that they hire. Locally, areas like Galle and certain house plans Kandy, often face such situations.
In areas with no such restrictions, the designing freedom you have when constructing a detached home is limitless. You can choose to follow whichever house design and features you want based on your preferences. Of course, common factors like location, environment, weather conditions etc. should be taken into consideration in the process. This will ensure that the house plan you draw and the house you build doesn't come crashing down on you at any point!
Recommendations:
In Sri Lanka when constructing your home, you can either go all out or limit things beyond normal ranges because of budget concerns. But in some other countries, the state is strictly involved to ensure minimum standards are maintained in every home that is built. This fortifies a spacious environment is created for sustainable living in the entire society. It also leads to people not being coerced into living in cramped up underground basements.
In the USA, depending on the State you are constructing your home in, the laws that apply to house plans and house designs vary. A traditional low cost home design plan according to the minimum standards should have at least one livable room with space for a closet and a window (regardless of style and size).
But locally, many seek at least 2 bedroom houses with a bathroom and a considerable amount of yard space. The students, job seekers etc. looking for temporary housing generally use one bedroom living spaces.
And so, a single modern house plan or niwasa salasuma, as the locals would say, includes a minimum of 2 bedrooms, 1 bathroom, a kitchen, a living room welcoming guests at the entrance and perhaps a tiny gardening space.
Duplex / Semi-Detached Homes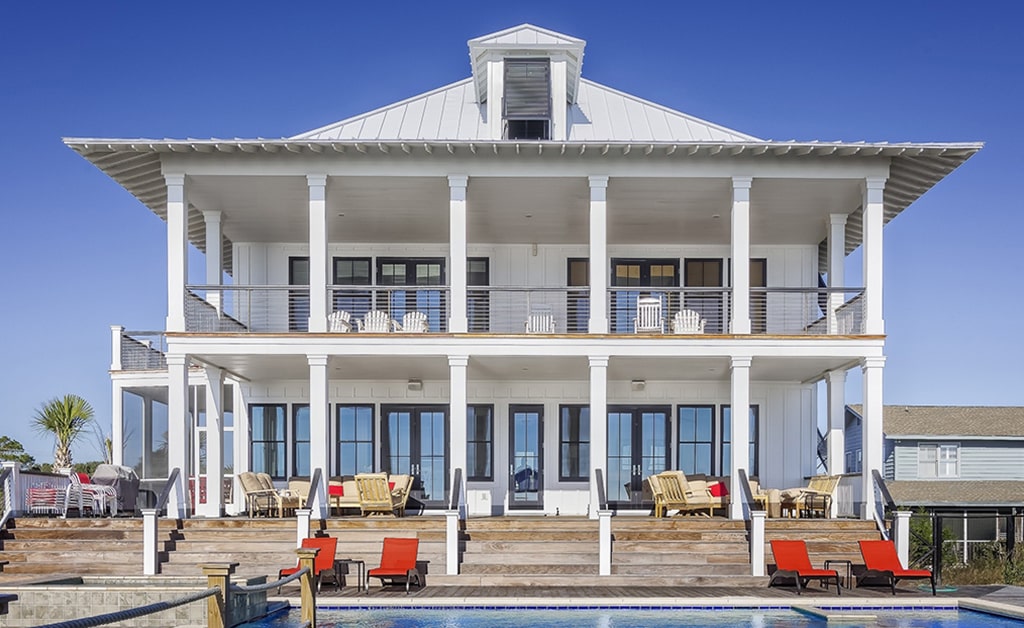 Images of contemporary house plans for semi-detached or duplex homes, show houses built side by side or in two stories. The space in these is comparatively larger than a detached or single home and the roof designs in Sri Lanka are more complex.
They are ideal for those with a large number of family members and can occupy everyone and everything while still having plenty of walking and room space.
A unique feature in these homes and house plans is that most of them are built mirroring or twining with the other. So you wouldn't find much of a difference between the two units, their exterior house design and in some cases, interior home design too.
Duplex house plans in Sri Lanka, constructed side by side, have an advantage of using one unit as an additional source of income. The second unit could also be used as an independent office space to enhance working from home even better. This method may result in tax reductions and fees depending on where you are from and the laws imposed.
Recommendations:
The number of rooms and space within a duplex house plan could vary based on the size of the plot of land. Because of this, most people choose to construct a duplex if only there is an abundance in space.
But the hidden secret behind a duplex is that unlike a single house plan in Sri Lanka, you can go higher. All that matters is a strong foundation. In fact, even a 6 or 7 perch land is more than enough to put spacious duplex
house plans in sri lanka or two story homes, into action.
A smartly designed semi-detached home could also comprise of a minimum of 5 rooms—2 children's rooms, a master bedroom, a guest room and a linen room that could also be used as a maid's room— 3 bathrooms, an L shaped veranda with a small house garden design area and parking for 2.
When working on this home design, use height as your hidden weapon and create a spacious look for your duplex. There are so many ways that you can do that. So don't give up on the duplex of your dreams anytime soon!
Triplex / Terraced Homes
Similar to a duplex but one unit more in number, is a triplex or terraced home. These homes share side walls and are often mirror images or identical houses of the initial unit. Some of these might also be built by combining a two-storied semi-detached house. So they would have two floors and are 3 in design or number.
When compared with a detached and semi-detached home, the outdoor space in a triplex is limited. Due to this, they are also comparatively cheaper in price than the previous two—of course, that is only if you are renting out one section.
Recommendations:
The total number of bedrooms in a house plan of a triplex could go up to 6 or 9 depending on the bedroom design in Sri Lanka. But, since this is usually a repetition of the ground floor in terms of structure, we may not see a contrastingly huge difference in space or design. However, it may be arranged differently than the other floors if they've been built one over the other.
A triplex could include a minimum of 5 or 6 bathrooms and bathrooms fittings, a large living space, a small front yard—depending on the location—parking, a spacious kitchen—to fit in the latest kitchen items and a patio— if backdoor space is available—in its house plans. You could also add in more extra rooms after taking the plot size and location into consideration.
Factors to consider when selecting a housing design
Although there is a variety of housing designs to choose from, you need to be practical as well. Here is a list of things to consider when selecting a suitable housing design.
Lifestyle
The life you or your family lives is different from someone else's. What they expect from their homes and the amenities they would need vary from yours. Taking such practical concerns into account and designing a small house plan that fits will ensure your daily life flows in ease. Ask yourself;
Are you someone who works from home?
Do gaming and working out occupy a big part of your daily routine?
Imagine yourself living in the house that you built according to the small house plan in your head. This will help you further identify what works, what doesn't and what is needed. You could construct a house plan that is not only luxurious and comforting but practical too.
After all, once you have invested a lot and found movers in Sri Lanka if your new home only becomes a hassle to the lifestyle you live, it will never be a worthy one!
The property and budget
Factors like the direction the sun faces, privacy and the budget should always be a priority when designing a house plan. This is because they have a much greater impact on the final outlook than you could ever imagine.
Unless you have a hidden stash of gold or extra cash, making frequent changes isn't an affordable luxury. So getting it right on the first go should always be your top concern throughout the entire planning and construction process.
Costs that may be incurred in future
A house built by house builders in Sri Lanka in the opposite direction that the sun faces would have to bear high electricity costs, lighting outlets, etc. This increases the costs that you have to spend on bills and other expenses if you decide to correct things later on.
Focus on the basic structure
When most people work on designing house design plans, what they focus on is the interior designing aspect. This includes the high-end designs and features that they can incorporate to create a unique space in their homes. But what you should do is consider the basic structure of the house.
Your modern house designs should be practical. It could certainly include new home designs, architectural styles and house interior design; but if there is no proper living space, it serves no purpose to anyone. You need to think rationally about the number of rooms to include, the purpose of each room, balconies, gardening space, etc.
Not doing so when drawing initial home plans has only left many dealing with the after-effects of unforeseen costs. This happens even amongst the best of houses designed according to a perfectly structured small house plan. For this reason, it is necessary to budget possible maintenance costs and be realistic when designing a small home design.
Sure, it is a great idea to test out-of-the-box new house designs in Sri Lanka on paper. But when put into practice, they may conflict against reality. At the end, you could end up with spending more than whatever you intended to in the first place or owning a construction that needs constant renovation.
The land
The land that you decide to build your home in impacts its value. Here, a house built in a sloppy mangrove with no foot traffic at all has no value to anyone. It wouldn't matter that you've spent thousands of rupees on constructing and designing it. Because of its poor location and quality, it might not even be worth a sale.
A common area in Sri Lanka that has the highest land value and large demand in Colombo. At current, the average land price of this city varies between 30 – 50M. While, in other cities, the range is between 20 – 40M. So even the smallest plot of land or house is worth quite a million or two.
Documents required in building the house of your dreams in Sri Lanka
Before actual construction takes place you need to first get approval for your home design plan with photos. The documents to be submitted in the process may differ based on where you live and the application type. If the area has been declared as an urban development area—regulated by the Urban Development Authority Act No. 41 of 1978—the documentation and application should be submitted to the Urban Development Authority (UDA).
The following is a list of primary documents to be submitted.
The plans of the site including drawings, site/layout maps and site location maps
The building plan to be approved along with 3 copies of the original modern house plan
Supporting documentation
Ownership certificate/copy of the relevant deed
Completed application form – Could be obtained from Pradeshiya Sabha office, Municipal Council, Urban Council or UDA.
Application fee / Receipt of payment
Other documents that may also be required to be submitted in the process are;
Approved subdivision/amalgamation plan, permit or approved building or floor plan, development permit or original survey plan for site existence from surveyed prepared before 1999/07/29
A copy of the owner's / representative (if submitted by a representative of the owner) National Identity Card
Certified copies of deeds with relevant survey plans and documents
Certified copy of Pedigree
Traffic Impact Assessment report
An affidavit along with the application certifying truth and accuracy of all documents submitted by the owner or developer.
Posted Date: 14th February 2020