&nbsp
Colombo sees no slowdown of Apartments coming up
There has been an increase in the number of apartment projects in Colombo and Greater Colombo areas, according to data compiled by leading property website LankaPropertyWeb.com.
Based on the certifications issued for Condominiums, Semi Condominiums and Provisional Condominiums by the Condominium Management Authority (CMA), the number of certificates issued has increased specially within Colombo city during last three years and by first nine months of 2017 it has exceeded last year's total number of units. A marginal growth was observed in greater Colombo (Colombo district other than Colombo city) area.
New projects concentrated within Colombo area
Significant decline can be observed in other part of the countries from last year to this year so far, which shows that developers are still focusing on Colombo apartments and its suburbs for new developments despite some new developments being launched in Kandy, Galle, Wattala and Negombo.
Larger apartments being built
Average floor area in Colombo has been 120 to 135 square meters accept in 2015. There had been relatively large number of condominiums approved and constructed with lesser floor areas in 2015. As a result, the average floor area was recorded as 85 square meters.
The average floor area of the condominiums in greater Colombo area is in the range from 100 to 125 square meters through studied period and it looks stable than Colombo area. The average floor area of condominiums in all the other districts range from 40 to 110 square meters.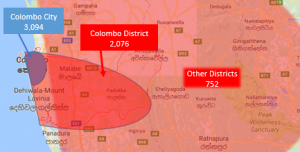 The preliminary planning clearances have been issued to more than 3000 units in Colombo and more than 2000 in greater Colombo. Annual average clearance issued for Colombo was 1600 from 2014 to 2017. The greater Colombo average was 1000 and other districts 450. But in the last two years the average of clearances issued within Colombo has risen to 2100 and greater Colombo and other districts remained at same levels. Hence, there are significant amounts of Condominiums that were given primary provisional clearances in Colombo City (3,094) as at 31st August 2017, whereas 2,076 units have been forward for clearance in greater Colombo and 752 units in other districts in the country.
Bambalapitiya takes the crown from Wellawatte. Colombo 7 sees a huge increase
Colombo 6 has been the most crowded area for condominiums as per the data for the period from 2014 to 2017. Colombo 6, Colombo 13, Colombo 9 and Colombo 3 are the areas with highest number of units given approval by the Condominium Authority during this period. Lowest level of such approvals was obtained in Colombo 1, 10, 11, 12 where most of the areas have been occupied by either commercial or administrative establishments.
Interestingly more condominium constructions were given Preliminary Planning Clearance in the areas such as Colombo 04, 07 and 06 as at Aug 2017. This would mean that areas such as Colombo 04 & 07 is expected to see many new apartments for sale coming up within next few years, compared to the level of condominiums that was built up during the last three years.
Posted Date: 22nd November 2017